WELCOME TO PJAMA
To suffer from bedwetting as a child or an adult is more common than you think.
In fact, bedwetting is one of the most common health problems among children worldwide. As a child, suffering from bedwetting could mean that you avoid sleepovers, camps, family trips, or any night away from home. These children often develop poor self-esteem, anxiety and stress, mainly affecting the child's social development.
Our Pjama products are designed with the girls, boys, women and men who suffer from bedwetting in mind. With Pjama you can always feel confident that a simple and discreet solution is available for problems with bedwetting.
We are proud to offer a complete solution for protecting the bed and treatment of bedwetting. Through Pjama you get both protection for the bed, treatment and support.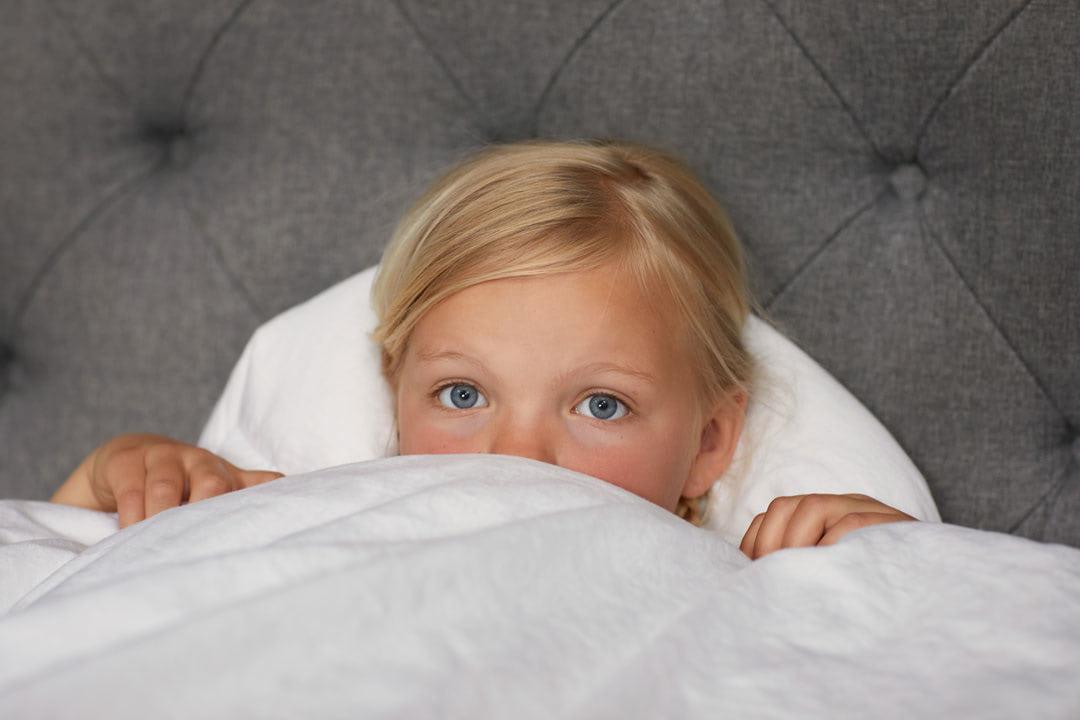 PROTECT THE BED WITH PJAMA PANTS & SHORTS
With Pjama's washable bedwetting pants and shorts, you as an adult or your child can participate in overnight stays outside your own home without feeling anxious and worried. Many of our customers also use Pjama at home to protect the mattress and duvet. Our protective pajamas look like any other pajamas, they are discreet and comfortable BUT they also keep your bed dry at night. Today we offer two different types of pants and shorts, Pjama Bedwetting Pants/Shorts (for bed protection) and Pjama Treatment Pants/Shorts (for bed protection and treatment with the Pjama Bedwetting Alarm).
And why not get an extra pair? In the event of an accident, you can easily switch to a new pair without anyone noticing. And if you are using Pjama as a bedwetting treatment, you can easily bring your Pjama Bedwetting Alarm with you and use your smartphone as a vibrating alarm.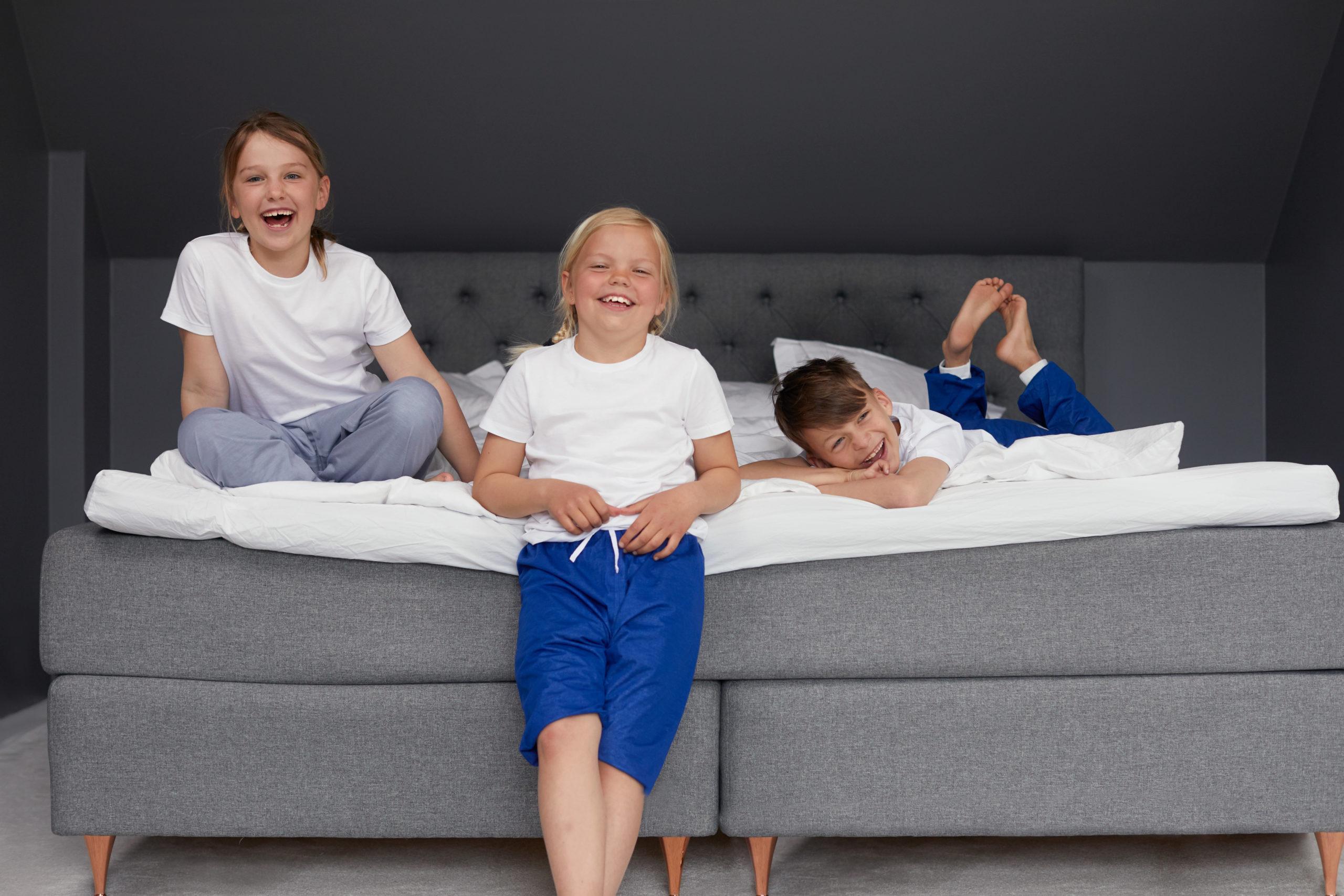 Get Treated with the Pjama bedwetting alarm
With our new Pjama Bedwetting Alarm that is connected to Pjama Treatment Pants and Shorts, you get both treatment and protection in one. With bult-in wet sensor that is connected to the pants and shorts, you can now use our brand-new bedwetting alarm for treatment. Through the sewn-in sensor threads in the internal lining, Pjama can indicate a leak quickly by triggering the alarm unit and awakening the child. If you sleep away from home, you can easily connect the sensor to our free DryGuardian-app in your smartphone and use vibration instead of the regular alarm signal.
Your child can now easily participate in overnight stays without having to interrupt their treatment or be ashamed of their bedwetting problems.
It is also possible to connect your alarm to a parent's smartphone and receive notices in the event of a leak. It is important to help the child wake up, especially at the beginning of a treatment.
Studies show that up to 80% of children treated with bedwetting alarms overcome their problems within a few months *.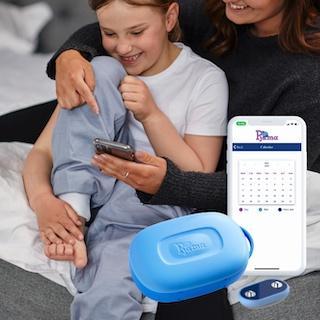 Treatment with the Pjama Connect bedwetting alarm
With Pjama Connect Bedwetting Alarm, you use your smart phone as the alarm device. The small sensor puck is placed in  your underwear or a diaper. When the sensor detects wetness, a signal is sent directly to the phone triggering the alarm function making, the child wake up.
Download the DryGuardian App to be able to use the alarm function and other smart functions on your smart phone.
Follow your progress with the DryGuardian App
With our free DryGuardian app, you can easily log bedwetting incidents and keep track of how the treatment is going. Bring the information to your doctor to get deeper and further insights. You can also get treatment tips, useful information about our products and purchase more Pjama products.
You can use your smartphone with the DryGuardian app as an extra speaker unit at home in for example your own bedroom. You can place your smartphone up to 20 meters away from the Pjama bedwetting alarm. The maximum distance will depend upon your smartphone.
When sleeping away, connect your phone to your alarm through the DryGuardian app and use the vibration function instead of an alarm signal. This makes it possible for your child to stay on the treatment and attend sleepovers.
"Our son no longer has any problems staying overnight when there is a school excursion."
Increase your child's self-esteem
Struggling with bedwetting can be devastating for a child. Shame and fear of friends finding out often leads to them not attending activities with sleepovers. With Pjama your child can feel safe. We want every child to be able to participate and feel included.
As one of our customer's puts it:
"Our son no longer has any problems staying overnight when there is a school excursion."
Help the environment with Pjama
The high consumption of diapers burns a lot of energy which leads to environmentally dangerous/poor level emissions of carbon dioxide. This is a non-sustainable manufacturing process that goes to chemicals, emissions and water.
Due to the high consumption of disposable diapers made of non-recyclable materials that contribute to carbon dioxide emissions, reusable bedwetting pants is a better and more sustainable option.
Pjama fabric-Tencel (wood fiber) needs a lot less water to produce than cotton fabrics which also leads to a better choice for the environment.